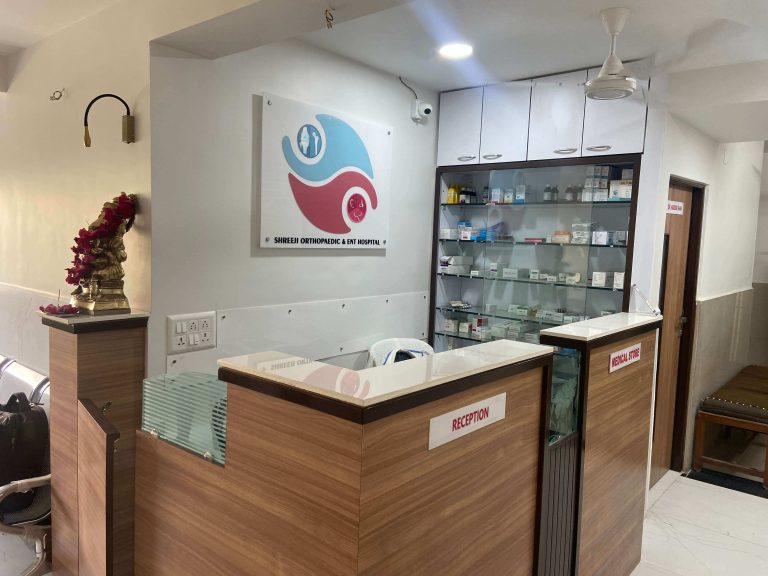 SHREEJIHOSPITAL IN AHMEDABAD, GUJARAT, INDIA IS "OPEN FOR ALL DOCOTRS" ANY DOCOTR CAN ADMIT HIS PATIENT AT THIS HOSPITAL AND AVAIL CASHLESS FACILITY FOR THERE PATIENTS.
24 hour Emergency Medical Treatment
Lift, wheel chair and stretcher trolley
Pleasant Ambience with Spacious Indoor Rooms to choose from – Super deluxe, deluxe semi- Special rooms and day-care ward
Architectural excellence, spaciousness, Natural light and ventilation.
Ample attention paid to cleanliness and courtesy.
Police Case ( medicolegal ) & accident cases are accepted 24 hours.
Well Trained, Courteous Staff Round the clock.
24 hours Internet Browsing – Computer Facility available.
Inhouse Portable X Ray Facility & Audiometry (Deafness) Test Available.
All Major Credit Cards And Debit Cards ( Visa, Master ) Are Accepted Here.
We are providing health insurance facility to our all clients round the clock. We are one of the pioneers in providing health insurance and cashless facility in India with all types of medical insurance from all companies engaged in the health insurance / medical insurance / mediclaim business in the India. We accept all "cashless" cards for providing best facility and medical treatment, health check-up plans to our clients and patients. Our two full-time doctors are in the medical pannel of all government insurance cos. as a medical refree.
We are providing various surgery packages with lodging and boarding as a part of Medical Tourism. In the healthcare industry "medical Tourism" in Ahmedabad is growing very fast. We are managing all aspects of the medical tourism and provide full facility to our international and domestic patients. We are having various treatment and operation packages ( arthroplasty, joint replacement surgery, fracture surgery, spine surgery, arthroscopy, tonsil surgery, ear surgery, deafness surgery, sinus surgery, endoscopy surgery, nose surgery, voice surgery, cosmetic surgery, allergy treatment, thyroid surgery etc. ) which can be customised also.We can provide all travel related assistance also to patients coming from medical tourism gateway.
" CASHLESS MEDICLAIM TREATMENT FACILITY in SHREEJIHOSPITAL HEALTHCARE CENTRE " for Mediclaim Policy ( health insurance Policy ) Holders of any general insurance company or private insurance company in India like :
National Insurance Co. Ltd.
New India Assurance Co. LTD.
United India Insurance Co. Ltd.
Oriental Insurance Co. Ltd.
ICICI Lombard General Insurance
IFFCO-TOKIO General Insurance Co. Ltd.
Bajaj Allianz Insurance Co. Ltd.
Cholamandalam General Insurance
Reliance General Insurance
Apollo DKV Health Insurance.
Star Health & Allied Services.
All corporate clients having TPA I-card with group mediclaim anywhere in india are treated here for there medical requirements with CASHLESS facility.
Following documents are necessary to avail cash-less.
Last Two years policy with Photo I D Card OR
If you have I-Card issued by T.P.A. then Xerox of I-Card.
We are associated with the following and many more ( constantly updating and growing list ) companies for Cash Less – TPA Facility as a "Preffered Provider Network Hospital" with best healthcare facility provider in Ahmedabad:
1. Paramount Health Care
2. Medsave Health Care
3. Family Health Plan ( FHPL )
4. Heritage Health Care
5. United Health Care
6. M.D. India
7. Health India
8. E-Meditec Pvt.Ltd (EMSL)
9. TTK Healthcare
10. Good Health Plan
11. East West Assist
12. Focus Healthcare
13. Alankit Healh Care
14. Safeway Mediclaim
15. Anyuta Medinet
16. Universal Medi-Aid Services Ltd.
17. Genins India
18. Raksha TPA Medicare
19. Dedicated Healthcare Services ( INDIA) Pvt. Ltd.
20. Grand Healthcare Services India Private Limited
21. Medi Assist India Pvt. Ltd.
22. Medicare TPA (I) Pvt. Ltd.
23. Rothshield Healthcare (TPA) Services Limited
24. Park Mediclaim Consultants Private Ltd.
25. Vipul Med Corp. Pvt. Ltd.
26. Star Health & Allied Insurance Co. Ltd.
27. Anmol Medicare Ltd.
28. Sri Gokulam Health Services TPA (P) Ltd.
29. Rothshield Healthcare (TPA) Services Limited.
30. ICICI Prudential Life Insurance Co. Ltd.
31. India Health Card.
32. Universal Healthcare.
33. Parekhs Healthcare, Mumbai.
34. I-care Heath Management & TPA Services Pvt. Ltd.
35. Chola Mandalam MS General Insurance.
36. Apollo DKV Health Insurance.
37. Max Bupa Health Insurance
38. HCX Healthcare Simplified
39. Apollo Munich Health Insurance
40. Spurthi Meditech (TPA) Solutions PVT. Ltd.
41. ICICI Lombard Health Insurance
42. L&T General Insurance Company Ltd.
43. Healthquarters
44. Universal Sompo General Insurance Co. Ltd.
45. Ericson TPA Healthcare Pvt. Ltd.